Just a day left for the release of Vijay's Master, there is so much hype around the movie. While the makers have been promoting the film with one theme each day, there were concerns about the movie's clips getting leaked online. Now, the makers have apparently found out the source of leak and necessary actions are taken to apprehend the culprit.
In the meanwhile, the cast and crew of the movie have been promoting the movie in their own ways and actress Malavika took to her social media for an interactive session with her fans. While her fans wanted to know many things, most them wanted to check with her whether she has seen the movie, to which she replied in the negative citing that she was away in Mumabi.
To another question, Malavika replied that Vijay used to call her Malu on the set. Malavika is a Malayali settled in Mumbai and Malu is a pet name with which many parents and family members address their children. Thalapathy Vijay being known as Anna to many, no wonder that he has showered affection on Malavika, his heroine in the movie. In the film, Malavika plays a young professor and Vijay essays an alcoholic professor JD . The film has Vijay Sethupathi playing Bhavani, the antagonist.
Earlier, last year, Malavika has wished Vijay on his birthday with a heart-warming note. She had posted, "This was the first day I met Vijay Sir, the day we had our pooja for 'Master'. I was excited, nervous, and a little intimidated around him. We hardly got a chance to speak that day. Little did I know that 6 months down the line he would become such an important part of my life. Adventurous, impulsive in the most fun ways possible, always up to trying new whacked out things, protective, caring, giving, lover of 'thayir sadam', amazing 4am friend except that he sleeps early(😋), the one who will point out the positive side to every situation..even if there's an apocalypse happening 😋
He's a man of few words, but never have I seen anyone who sticks to the words he's uttered and the promises he's made as mindfully as he does. Happy Birthday to the kind of man they don't make anymore ♥️ Happy happy Birthday, Mr.Thalapathy.
#MasterOfAll."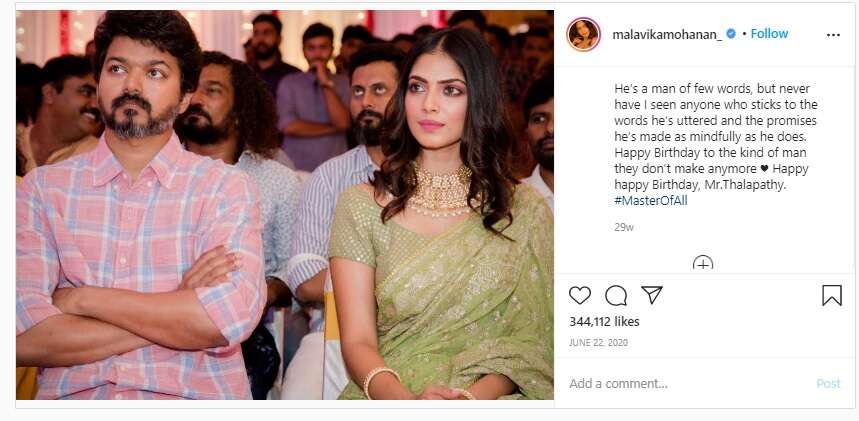 Source: TOI