Superstar Rajinikanth
and
Latha
got married on February 26, 1981, at Lord Venkateshwara temple in Tirupati. Today, they are celebrating their 40th wedding anniversary.
Aishwaryaa R Dhanush
, their eldest daughter and wife of actor
Dhanush
has written a beautiful note on her Instagram page and has posted a photo of her parents along with her grandparents.
In the emotionally moving note, she wrote, "She embraced them as family and he took care of hers like his own till the end of their days … I truly believe that my grandparents are angels guarding the two of you through life with its every possible twist and at each turn. I've learnt …(so far n still learning ..) Marriage is carrying each other's baggage ( literally too most often in my case… Compassion stays way beyond passion…Friendship becomes the base of companionship…House is always home ..I don't love just you but I love you'll ..the family we made…Gathering pieces of life's jigsaw as we grow old as two individuals together to give it meaning at every stage ..I'm going to pause ..cause..right now." She added, "I just want to wish my dearest Appa n Amma a super duper anniversary ! Love you both way beyond the moon n back ! #happyanniversary."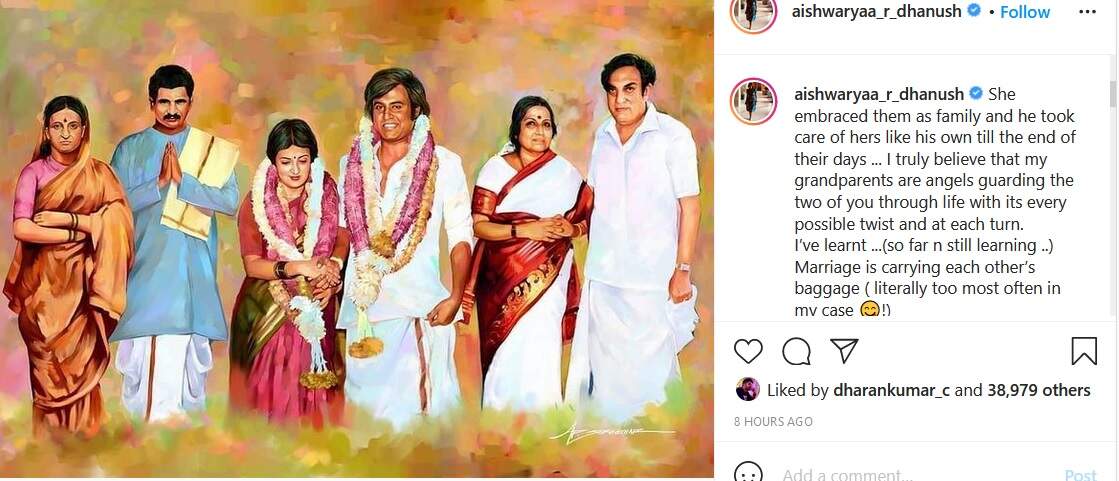 Recently, Dhanush and Aishwaryaa had done the bhumi puja for their house in Poes Garden, near to her parent's home and the same was attended by Rajinikanth and Latha. It is said that the swanky home the couple has planned will take nearly a year to complete and it is being built with a budget of 80 crores and will feature the best of luxe and amenities.
Aishwaryaa was also with Rajinikanth while he was shooting in Hyderabad for his Annaatthe in December, and when he fell ill, she was with him in the hospital and also brought him to Chennai by a special flight.
Currently, Dhanush is in the US shooting for his Hollywood movie, The Gray Man.
Source: TOI