Recently director
Desingh Periyasamy
got married to actress
Niranjani
and the same had made headlines. The duo had worked together in Designh's debut movie Kannum Kannum Kollaiyadithal that released last year. On the occasion of the fwedding of Desingh and Niranjani, the movie's hero, Duqluer has posted a heartfelt note on his social media. He posted, "Wishing this gorgeous couple the happiest or marital life ! You both perfectly compliment each other in your temperament, kindness, creativity and talent. Missing this wedding is one of my big regrets but I just couldn't change up my shoot sched. It would have made me immensely happy to witness this in person. But lots and lots of love and prayers to you guys. The wedding looked both stunning and like an absolute blast. Here's to the two of you Desingh Periyasamy and Niranjani Ahathian 🎉🎉💐💐 ."
#besttwo #perfectpair #KKKreunion #missedit #FOMO #butsohappy #thishappened #beautifulsurprise #weneverknew
However, the real surprise came when the newly-married couple were given a costly gift by the producer of the movie,
Kannum Kannum Kollaiyadithal producer Anto Joseph. He gifted the couple a brand new car. Desingh shared the photo on his Twitter with a thanks message and the photo of the same is going viral.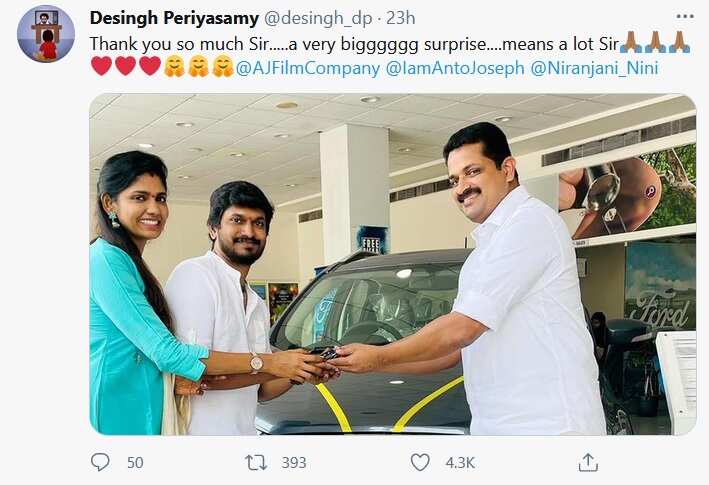 Niranjani is the daughter of director Agathiyan. She is also a fashion designer who has worked as a costume designer in movies like Vaayai Moodi Pesavum, Trisha Illana Nayanthara, Kathakali, Kabali and Pencil, among others.
Source: TOI