Malayali's
Lalettan
aka Mohanlal, the complete actor is turning 61 today. He has been on screen ever since 1978 and we have been watching him for over four decades now. The audience have seen him evolve as an actor, individual, and icon. These four decades have brought dramatic changes in
Mohanlal
and one among them is the actor's fashion choices. And over the past few years, the actor has been doling out some serious fashion goals. From ethnics to high street fashion, Mohanlal has been experimenting with different styles lately. And on this special occasion of the actor's birthday, we got in touch with his personal stylist
Jishad Shamsudeen
.
In an exclusive conversation with ETimes, Jishad Shamsudeen reveals Mohanlal's likes and dislikes in fashion and also shares fond memories of working with the superstar.

It has been over two years since Jishad Shamsudeen has been working with Mohanlal as his personal stylist and any person who has observed the actor could visibly see the changes the association has brought. Entertainment and the fashion industry go hand-in-hand and there is no denying to the fact that a fashion enthusiast and layman would equally look up to the way an actor carries himself/ herself, rather than keeping track of a supermodel. And Jishad Shamsudeen has now divulged the superstar's personal fashion choices to us!

Mohanlal's favourite color
Light blue and whites are his favourite colours. And I think it goes with his personality as well. Mohanlal sir has a peaceful nature and so light colours bring out the best in him.


Fashion Mantra
Mohanlal sir loves wearing minimal styles. Comfort is his fashion mantra. He swears by it. And I think his grace is what adds beauty to the look.
Mohanlal and his Ray-Ban glass from 'Spadikam' never go out of style for Keralites. Does he like to wear glasses like Aadu Thoma?


He does have a great collection of glasses, but I haven't seen him using them that much in professional life. However, when he travels, or is on a holiday, he loves wearing glasses.
We have spotted him wearing denim outfits on multiple occasions. What is his relationship with denim?
I am a denim artist, so I do love working with them. And Lalettan carries them with grace. So we have tried different denim washes, fades, and distressed. Yes, he adores denim.
Also, we have seen him acing some statement prints. Does he follow trends?
Very much. He follows the trends. And makes a few himself! During the 100 days celebration of 'Lucifer', the teaser launch of 'Marakkar – Arabikkadalinte Simham' and during one of the award shows, he has been sporting hand stitched embroidered shirts, which later many began following. After the release of 'Ittymaani – Made in China', he was into printed shirts. He tries to carry outfits according to the season, and also comfort is very important for him. These are the two key factors, any fashionable person looks for.
While hosting a popular reality television game show, Mohanlal had appeared wearing jackets quite often. What does he prefer – solids or prints?
He mostly prefers minimal styles. But when it comes to this particular reality show, the vibe is different, so he tries to go with it. Be it jackets, or longline pullovers, or double pocket outfits, Lal sir is willing to experiment. I don't feel like he has a particular fondness for either solids or prints.
Tell us something about his wardrobe. Does he have a walk-in closet?


Let me tell you a story before answering that question (laughs)! So a while ago, I was asked to pick a particular hue of outfit from his home in Chennai. I entered his closet, and I was lost. He has a hundred options in the same color. He has every single brand, a stylist like me has always wanted to own. Despite being a stylist and a designer, I was like a kid in a candy store. He has a great collection of shoes as well. And the most interesting part is, he has some high street fashion brands in his closet including Balenciaga. So you can guess! From high fashion to luxe, Mohanlal's walk-in closet is any fashionista's dream.
Does he have favouirte outfit?

Not an outfit, but I can say he is very particular about footwear. He is very conscious of making choices when it comes to footwear. Mohanlal sir, always says that a wrong footwear can kill the person. So he handpicks every piece of shoes. And he does have the latest collection from most of the brands. Also, I have observed that he loves to collect things. Lalettan sometimes falls for certain styles of outfits that he has carried for films. In such instances, he would either requests the costume designer to make one for him or else buy the one he has worn in the film.
What is that one character trait of Mohanlal you adore most?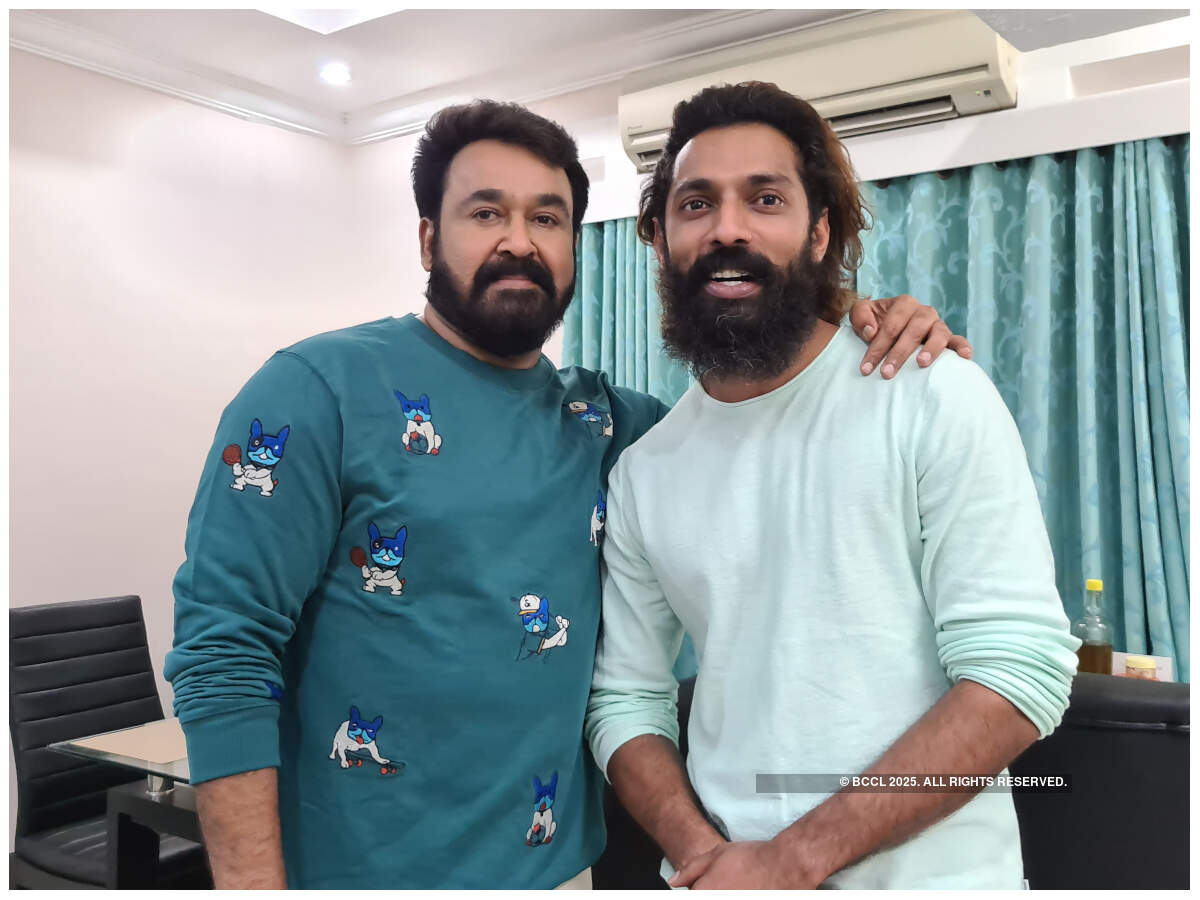 As a stylist, I would say, he loves to experiment with outfits. And he trusts my choices, which is an important aspect. Also, I have learned a lot of punctuality from him. His timeliness is remarkable. I remember this particular incident, where he was attending an award night abroad. The show ended very late, and he had to return the same day for the puja ceremony of his next. He had a four hours long flight to reach back in Kerala. But he was on time, he arrived sharp at 5 am, for the puja. Imagine how many hours he would have slept? Well, I think that's what makes him the star he is now!
"Above all of this, he treats you like family. I have grown up watching his movies. And being able to work with him, itself is the biggest achievement for me. And wishing Lalettan a very happy birthday" says Jishad Shamsudeen, signing off.
Also See:
Mohanlal Movies

Source: TOI