Kangana
Ranaut's
Twitter
account was permanently suspended on Tuesday morning after the actress posted a
video message
regarding the situation in West Bengal. She had close to three million followers on Twitter but the same stands inactive as of now. Kangana's video, wherein she insisted for President's rule in
West Bengal
, may have been the reason for Twitter to take this action on her account.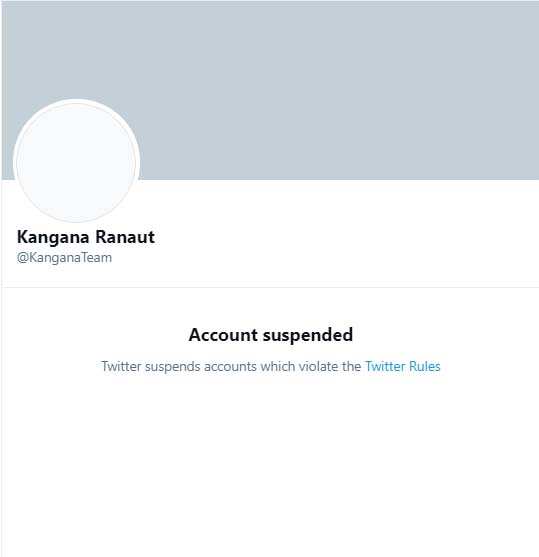 Before suspension, Kangana's Twitter account's bio read, "Artist, Recipient of Padmashri, Four national awards winner, highest grossing female centric films, Bidding Filmmaker, Wannabe environmentalist." In August 2020, Kangana had announced her arrival on the micro-blogging site. She had shared a video on Twitter and expressed, "I have seen how the entire world came together to fight for Sushant Singh Rajput and have won. So, this makes me feel positive about its power to bring the reforms we want for a new India. So, this is why I have joined social media. I need your support in this journey, and I am looking forward to this journey to build new relationships." Kangana Ranaut's presence on Twitter has often hit headlines. Earlier this year Twitter India had removed posts by the actress, citing that it violated the platform's rules.
Also Read:

Reacting to her Twitter account getting suspended, Kangana later shared in a statement, "Twitter has only proved my point they are Americans and by birth a white person feels entitled to enslave a brown person, they want to tell you what to think, speak or do, fortunately I have many platforms i can use to raise my voice including my own art in the form of cinema but my heart goes out to the people of this nation who have been tortured, enslaved and censored for thousands of years and still there is no end to the suffering."
In April 2020, Kangana Ranaut's sister, Rangoli Chandel's Twitter account was suspended. She had then moved on to Instagram.
Also Read:
Source: TOI