Arshad Warsi had said in 2017: "I haven't seen this '
Bigg Boss
' season, but I've heard about it. The channel is attempting to boost the ratings by showcasing things that sell. And thus, morality is taking a backseat. People enjoy watching crass, and the channel is merely serving it." Warsi's opinion on the reality show made waves. This show is being hosted by Salman Khan on national television since 2010 (with two sporadic breaks) and recently, Karan Johar got in to anchor the OTT version. We have had actors from Bollywood and TV both desperately (if we can use that word) waiting for that one call from the makers of 'Bigg Boss' every season. There have been some actors who have been inquiring even from journalists whether there's any specific procedure that could get them locked inside the house (earlier in Lonavla, now in Mumbai's Filmcity). So, is it indeed true that this show is downmarket and meant for losers? Is it also detrimental to society? Such a school of thought does exist. Let's debate.
Dalljiet Kaur joins ETimes TV to say that she has heard many times from actors–big and small–that 'Bigg Boss' is something that they don't want to touch. "Come what may, they look down upon the show. There'll be times when they will run out of money but not swallow their ego," she says. However, a senior TV actress (name withheld on request) disagrees with this viewpoint of Dalljiet and says that a recent winner of 'Bigg Boss'–who had no work and had rubbished the show to her friends–went on to not just sign it but also win it. "Paisa nahin hota hai, toh saari akad nikal jaati hai (when you don't have money, you have to swallow your pride)," she underlines.

Dalljiet further says that nobody knew Shehnaaz Gill when she entered 'Bigg Boss' or Asim Riaz, who didn't even have his clothes ready. "But today, Shehnaaz's life is quite set, and Asim has become a heartthrob. I had a blast and I wish that I had stayed longer than just two weeks. The duration was short but I came out stronger."

Rahul Roy's brother-in-law Romeer Sen (Rahul, who won the first season of 'Bigg Boss', is recuperating) says that Rahul, however, did not benefit from the show, but that's because there was no social media then. "Today, every participant ends up increasing his followers and getting more endorsements."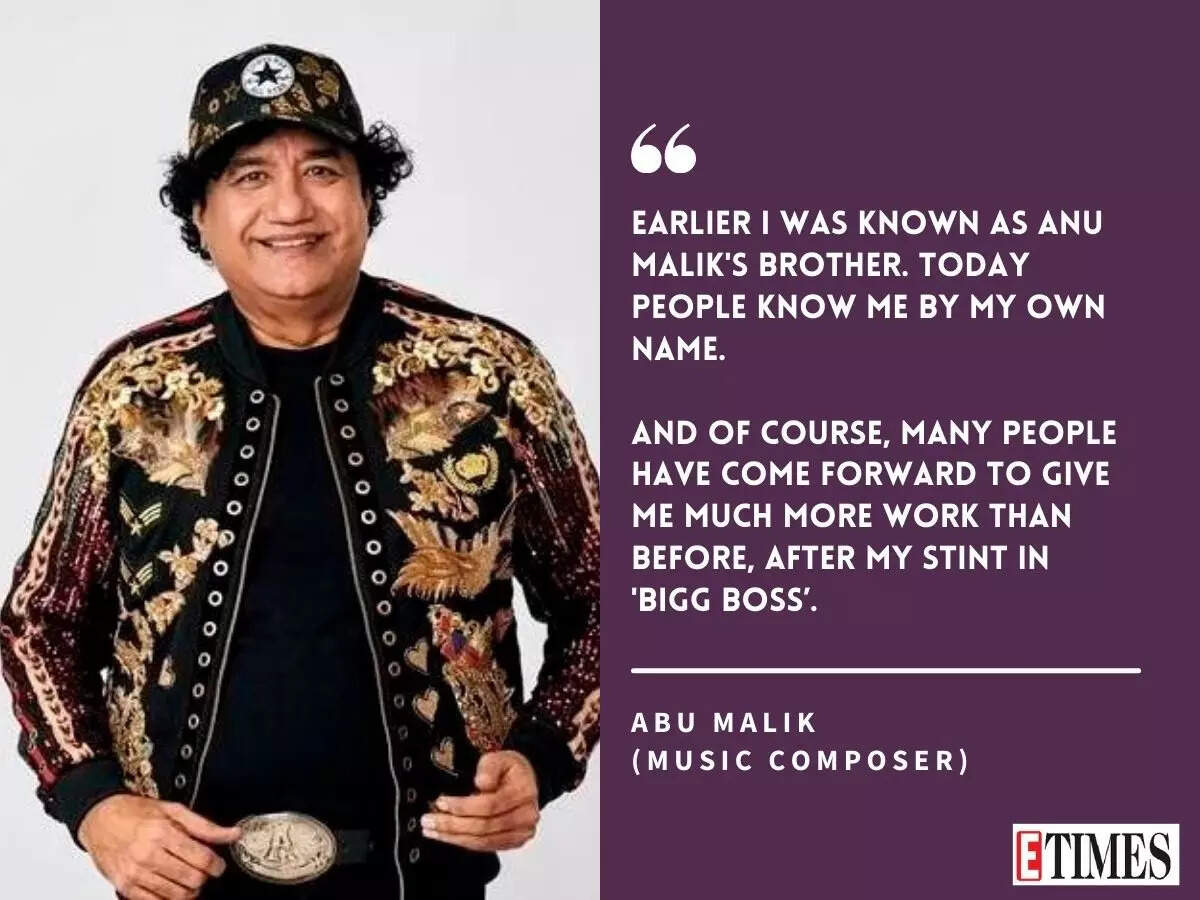 Abu Malik concurs with Romeer to say that not just money, he has now received recognition in today's times of Instagram, Facebook and Twitter. "Earlier I was known as Anu Malik's brother. Today people know me by my own name. And of course, many people have come forward to give me much more work than before, after my stint in 'Bigg Boss', even though I lasted for just three weeks. Meeting more people has also widened my lateral thinking and hence, horizons too."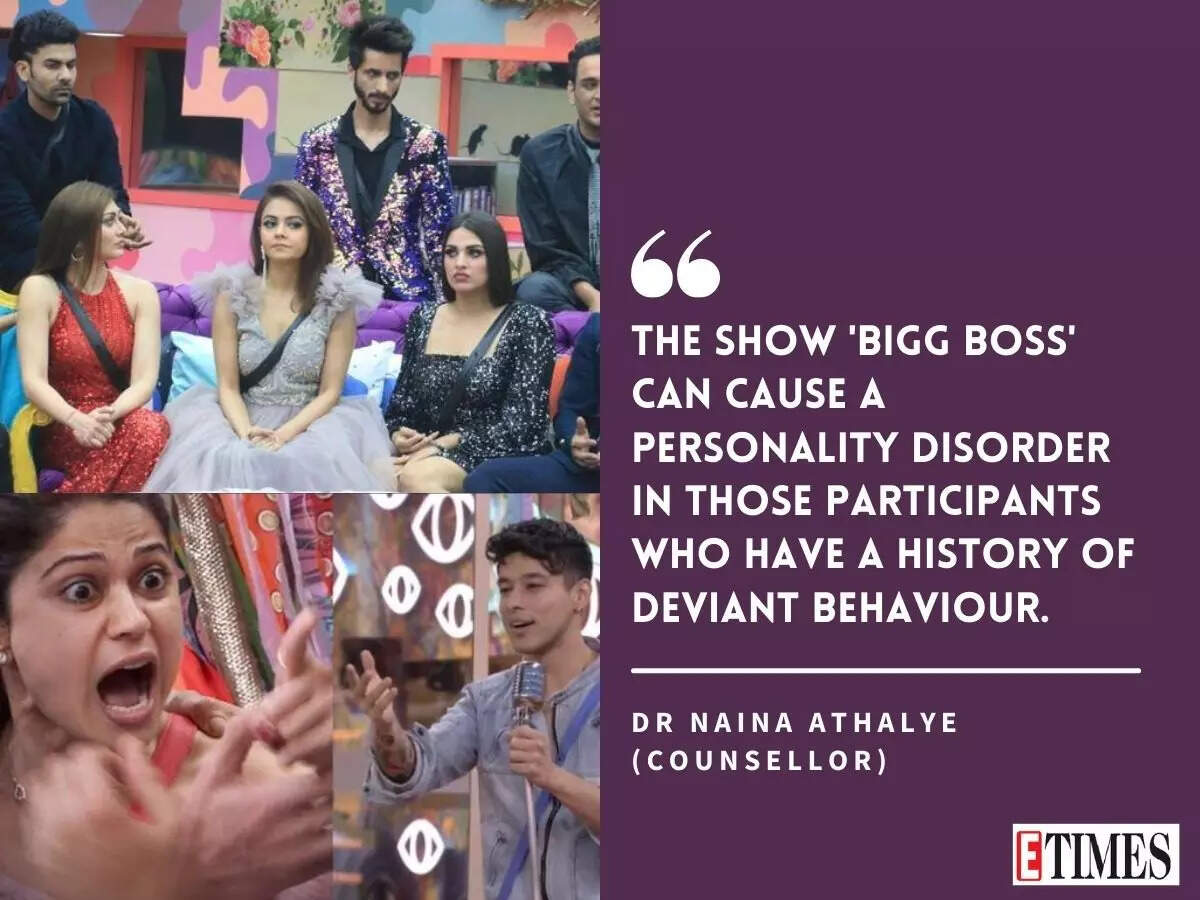 But looking from the other side, counsellor Dr Naina Athalye interjects with an essay that is totally divergent to Abu Malik's and others' views and says 'nay' and not 'yay' to 'Bigg Boss'. "The show 'Bigg Boss' can cause a personality disorder in those participants who have a history of deviant behaviour. It can escalate their problem to bring about a distorted change in them. Viewers, however, may not develop a personality disorder unless they are terribly obsessed with a particular season–but look at what the show provides. It is utterly ridiculous. Itna sab real life mein nahi hota hai (such things don't happen in reality). People are first pushed against the wall and then the worst behaviour is brought out from them. Initially, it might be a natural reaction but later some contestants begin to feel that's helping them to provide content and begin to exaggerate. Trust me, I watch many TV serials, but I have struck off only 'Bigg Boss' from my list for the very reason that it promotes violence and abuses. It is such an artificial situation that has been created but sadly the people watching it start associating themselves with it. It's all so negative. I wouldn't be surprised if some participants have seen their videos after elimination and repented what they did inside."
A female winner of the early years of 'Bigg Boss' refused to talk about the show completely, when ETimes TV texted her two days ago. Repentance? An actress who was in the news two years ago for her boyfriend ditching her from the 'Bigg Boss' house and has gotten several calls after that from the show's broadcaster, refused to go on record that she was asked or rather coaxed to participate. Second thoughts of being associated with the show even in spirit?
"And of course, 'Bigg Boss' is not for kids. Children should be kept at a safe distance from 'Bigg Boss'," Dr Athalye emphasises. Dalljiet, who is a mother to a 6-year old son, is round the corner to say, "Yes, of course, my son is not seeing it and I am making sure it stays that way. But I guess he will see it when he grows up. What I mean here is that most adults love the show."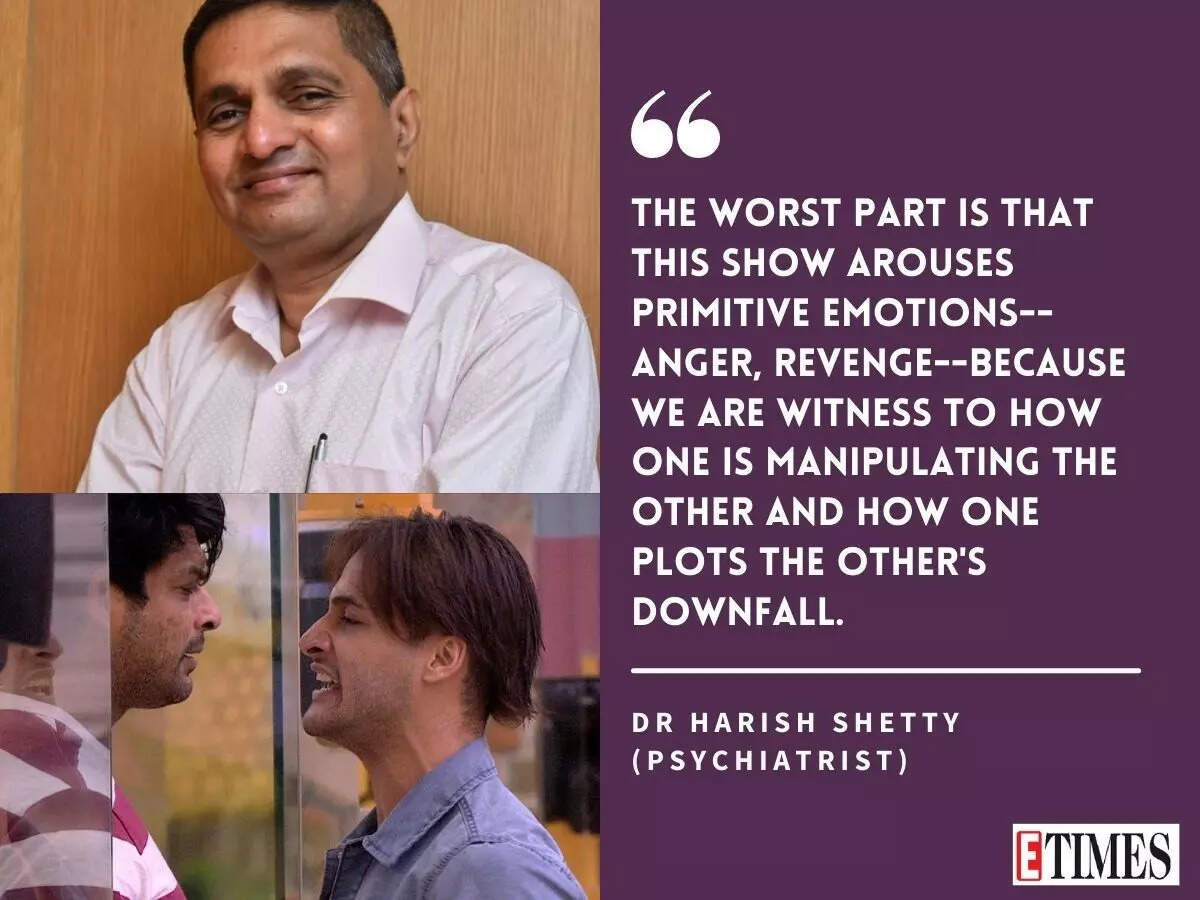 Psychiatrist Dr Harish Shetty, when contacted, offers, "In my house, we have the 'Bigg Boss' in Kannada being watched, but it is only my mother-in-law who loves the show as she enjoys the elimination rounds; nobody else identifies with it, they are go-getters. Such shows will click in today's angst-driven society, and mind you, the angst was there long before COVID was born. The worst part is that this show arouses primitive emotions–anger, revenge–because we are witness to how one is manipulating the other and kaun kiski vaat kaise laga raha hai (how one plots the other's downfall). If you are asking me to cast a vote on a 'Yes' or a 'No' on 'Bigg Boss', I would cast my vote for 'No'. I think it would be prudent to have a committee from all walks of life who can review the show, maybe not every episode but there should be some kind of check on it. Note well, I am not advocating censorship."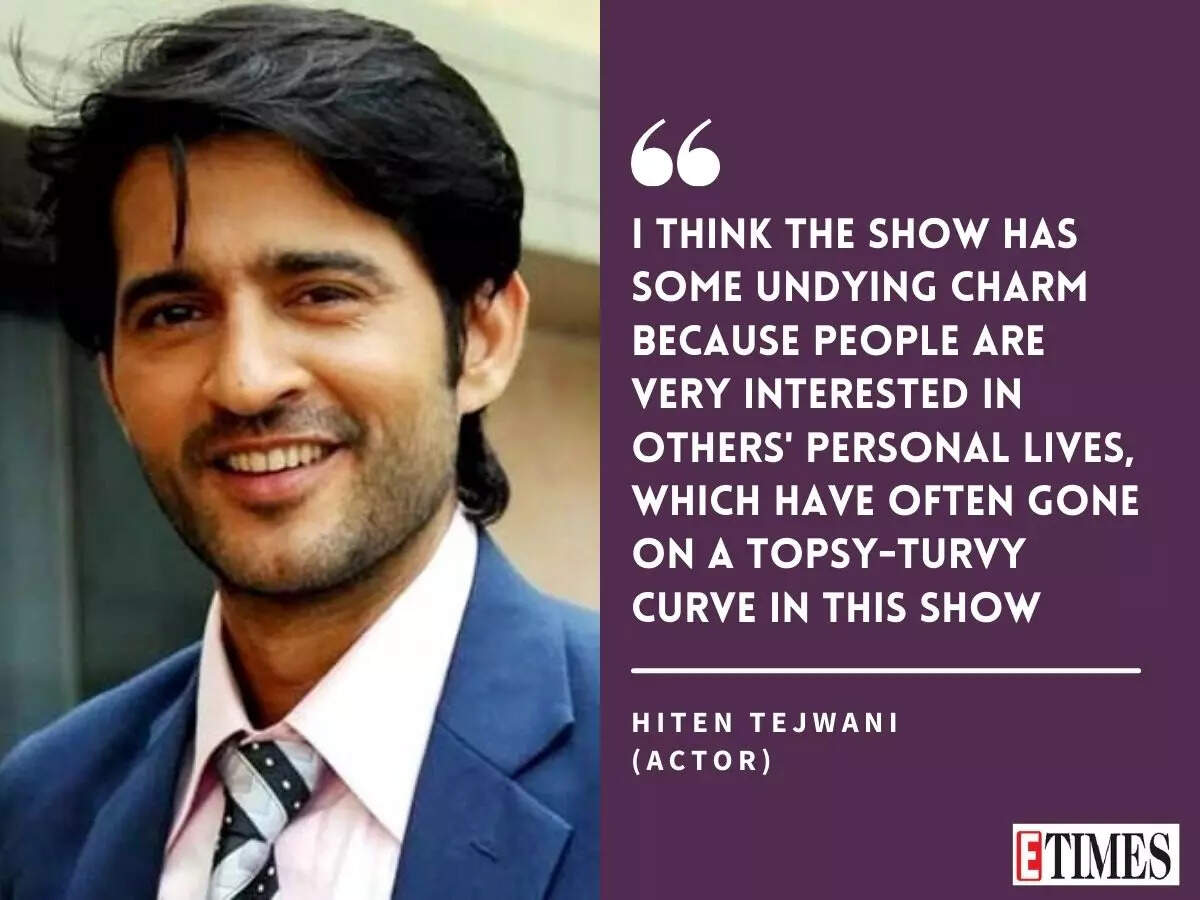 Back to those who sit on the proverbial fence. What is meant by saying, 'the show is largely for losers' is that the contestants who enter have a dark and dirty, controversial history behind them. However, the successful actor Hiten Tejwani argues, "What controversial story did I have when I signed up for 'Bigg Boss 5'? None. Why did I go? I wanted to check out what this much-talked about show is all about and whether it affects me. I wanted to know if I could stay in a place where you do not know what's the time, where there's no phone, where you can't see the people you are used to seeing. Let's say I was itching to test some rough waters." Reacting to the medical opinion that 'Bigg Boss' can adversely affect you, Hiten points out that you can come out unscathed if inside the house, you are just what you are. "Don't try to become a new person just because you want the viewers to sit up and notice you. Things will fall in place, kuch kharab nahi hoga aapko (nothing bad will happen to you)." Adds Hiten, "I think the show has some undying charm because people are very interested in others' personal lives, which have often gone on a topsy-turvy curve in this show. There have been some shocking unexpected twists in the real lives of participants only because they got into this show; the public gets some kick with these ups and downs."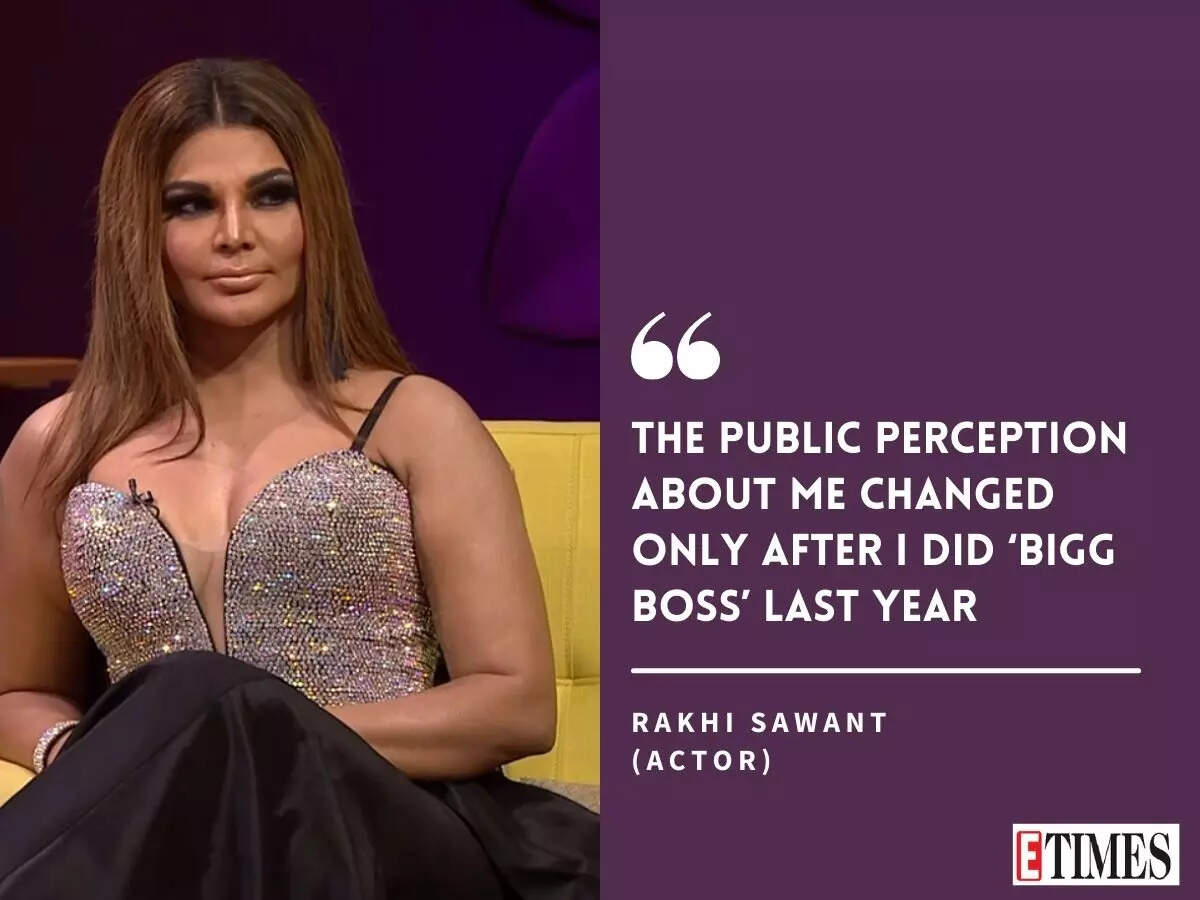 Rakhi Sawant is buoyant about the show. "The public perception about me changed only after I did 'Bigg Boss' last year. After that, I have been getting several promotional campaigns to do from my social media handles. What's wrong? Plus, there's much more in other areas of entertainment and the internet that needs a soul search, things that are downright vulgar and blasphemous. Why is 'Bigg Boss' a soft target to pick on?"
Deepshikha Nagpal, bindaas as usual, says she has no regrets, "I think it's a case of sour grapes when it comes to actors who complain about the show. We shouldn't be judgmental. It's a very successful show, which is why Karan Johar and Salman Khan are doing it."
Hiten, however, says that the flip side to entering 'Bigg Boss' is, it can give you an image that is perceived outside as a trouble-maker, but Deepshikha discounts this too by saying, "Yes it does give you a troublemaker image, but that perception is transient, it goes away with time. My own image in serials and movies has gone against me at times, when people have had preconceived notions about how I must be in real life- but after they met me, they all said that they were living with a false belief".
At this point, a leading TV producer informs that a famous actor recently turned down the show because he felt he was upmarket for it. "This guy also felt that the show is scripted and he wouldn't like someone to tweak his life." Think of it, many things may have been scripted but the bhanda-phod (reveal) of Rashami Desai's ex Arhaan Khan being a married man and a father was perhaps not. Can the show also act as a curse or a blessing in disguise to some participants? Dalljiet Kaur returns to say, "You said it! It was a blessing in disguise in her case." Rashami, when called, quips, "It is very difficult for me to describe 'Bigg Boss' show in just a few words or lines".
Is this really a coffee-toffee argument? Is 'Bigg Boss' really that glass which can be termed as half-full or half-empty depending on the dekhne wale ka nazariya (how a viewer sees it). So readers, we leave it to you to decide.
Source: TOI