Ahead of their digital release in India, Black Widow and Cruella have both been available on pirated films websites here for months, following their international streaming release. Not just Hollywood, even the latest Bollywood flicks like Shershaah, AK vs AK, Mimi, Toofan, Ray, Sardar Ka Grandson, and Roohi were immediately available on such sites post their digital release in India. Pirated versions of most films released on digital platforms are made available before or on the same day through links on
WhatsApp
and
Telegram
groups. In some cases – like Salman Khan-starrer Radhe, which released in May this year – pirates have been daring enough to even announce the sale of the movie on Facebook after its release and three persons were arrested under relevant sections of the Information Technology Act and the Copyright Act in this particular case.
People from the industry find piracy with regard to
OTT
releases especially worrying, as not only can the films be pirated easily after they release digitally, but also because illegally downloadable versions of the films are just as good in quality as the originals.
'IT'S NOT DIFFICULT FOR PEOPLE WITH SOFTWARE KNOW-HOW TO copy FILMS FROM STREAMING WEBSITES'


As per an international publication, Black Widow star Scarlett Johansson's recent lawsuit against Disney listed "piracy" as one of the reasons she was against the makers releasing the superhero film simultaneously in theatres and on digital platforms. The National Association of Theatre Owners, Los Angeles, in its statement issued in July, said, "Piracy no doubt further affected Black Widow's performance, and will affect its future performance in international markets where it has yet to open. Pristine digital copies became available within minutes of release on Disney+. Black Widow was the most torrented movie for the week ending July 12. It is also available on myriad illegal streaming sites all over the internet. This was also the case for all simultaneous releases (Wonder Woman 1984, Godzilla vs Kong, Cruella, Mortal Kombat, etc)."
Sunny Nehra, a cyber expert, says, "Most streaming platforms use DRM protection. Pirates use screen recording and other tools specially developed to crack DRM. It is not that difficult to crack for software developers or those who work in this field."
'UNLIKE BEFORE, NOW QUALITY OF PIRATED FILMS AT PAR WITH ORIGINAL'
Yogesh Raizada, an exhibitor, says, "Easy availability of high quality downloads of latest releases is worrisome. Earlier, pirates would record in cinemas and only poor quality versions were available on pirated films' websites. People used to also avoid watching pirated films because of bad quality."

Many avid streamers tell us they watch pirated content because it's free and high definition versions are easily available. One user says, "I'm already paying for broadband. Now, if I start paying for every service that I use online, then what's the point? Also, I don't download pirated films. My friends send links."

Another user says, "I don't download Japanese, Spanish or Korean films, as in most cases the subtitle file is missing, and it is impossible to understand these without them. I only watch Hindi and English films on websites with pirated films."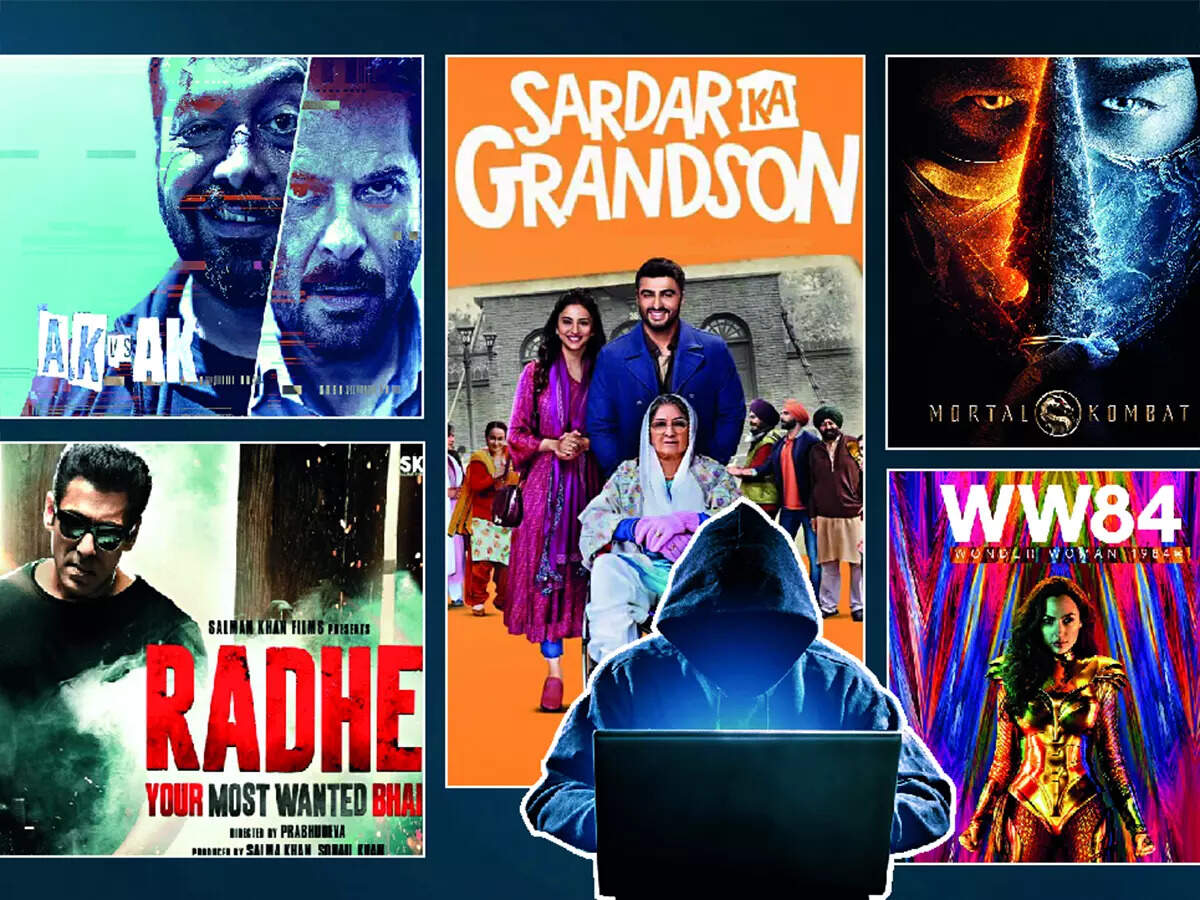 WHY DON'T FILMMAKERS COMPLAIN AGAINST OTT PIRACY?
Few arrests have been made related to OTT piracy, as according to Anyesh Roy, DCP, Cyber Cell, Delhi Police, they haven't received any complaints yet. So, what is stopping the producers from taking collective action? Lawyers say that while streaming content and pirates have moved on to far better technologies, the law has not caught up yet and that's why enforcement of the Copyright Act is difficult.
However, there are several steps that can be taken to stop piracy. Vivek Narayan Sharma, a Supreme Court lawyer, says, "Producers should contact the police if their film is pirated and ensure that an FIR is registered, so investigations can follow. The reason why producers stay away from any legal action is because of the long procedure, but film piracy is a mass violation of copyright. Platforms where these films are circulated should also be made a party to it and it is the liability of these platforms to remove the content. Last year, newspapers went to the Delhi High Court stating how their PDF copies were shared through chats and the court ordered that unauthorised dissemination be stopped. If producers or film bodies will contact the court or the government will step in to create a mechanism then it can be stopped. The court can give an injunction to stop its circulation on unlicensed platforms if it is pirated."
Vivek Sood, a senior advocate of Delhi High Court says, "Piracy of content from streaming platforms can be stopped by three methods. First, better security of content which can't be bypassed (and if they get to know about software which assists in piracy, they can contact the court). Two, make content easily accessible and cheaper. Third, take action against organised piracy rackets i.e. go to court to get websites blocked or complain against pirates, as any action taken sends out a message to others."
On the other hand, an official from an OTT platform points out that when titles are released all at once around the world on streaming services, it instead helps address piracy and protects the creative community's hard work. They add, "Platforms like ours have economical subscription plans which cost less than `200 a month, which also has helped in fighting piracy as people can watch content on their own terms without any hassles rather than resorting to piracy."
CAN YOU BE ARRESTED FOR WATCHING A PIRATED FILM?
Let's say your friend forwarded you the link to a movie downloaded from a pirated website or which was shared on an unlicensed platform. Or suppose you go on a pirated website to watch a film. Can either of these actions land you or your friend in jail? Vivek Sood, a senior advocate of Delhi High Court, says, "Downloading a film/web series/documentary from an unlicensed platform is a violation of intellectual property rights. But you can't be arrested. Under Section 51 of the Copyright Act 'reproduction of a literary, dramatic, musical or artistic work in the form of a cinematograph film shall be deemed to be an infringing copy.' However, Section 52 clearly states that private viewing is not an infringement. What does that mean? It means if you forward it to others or sell it, then it is an infringement and you can be arrested." However, Sood adds, "While you can't be arrested,for watching pirated content, you can still be hauled up, restrained and the OTT platform which has the original content can even ask you to pay for the damage (fine) if you watch their content from an unlicensed platform."

Source: TOI