This
Raksha Bandhan
, Sanon sisters take a moment to thank each other for being each other's rakshaks in times of the pandemic. As the world battled through the coronavirus crisis, work came to a standstill and people had no choice but to be confined to their homes, the Sanon sisters — Kriti and Nupur — say that they were blessed to be by each other's side during this phase. While their current state of mind is celebratory, with Kriti receiving rave reviews for her performance in Mimi and Nupur's music video, Filhaal 2, winning appreciation, the last few months were a tough ride.
As Bombay Times celebrates #MyPandemicRakshak, the sisters open up about the bond they shared through their growing up years and how the pandemic redefined this equation. Read on…

To begin with, let's talk about the equation the two of you shared in your younger days and how has it evolved over the years?


Nupur Sanon (NS): As a kid, Kriti was always that badi behen for me. We couldn't crack that bond where the two of us could be very friendly with each other. It is only in the last six years that we developed that kind of a bond where I could share things with her, even my secrets.
Kriti Sanon (KS): As kids, we were like friends and played ghar-ghar and teacher-teacher together. We had the same group of friends. As I became a teenager, I branched out. I had my separate set of friends and I became this protective elder sister to her. Nupur and I have an age gap of five years. So then, you have your limitations where you can't discuss everything with your younger sibling, right?
NS: Kriti used to avoid talking to me about her boyfriend, because she didn't want me to have a boyfriend (laughs!).
KS: Yes, I wouldn't tell thinking that she would get influenced by me and start dating at a young age. Our equation changed drastically the moment I moved to Mumbai to pursue a career in Bollywood. I was by myself here and I would miss her a lot. Then, when she moved in with me, our relationship blossomed.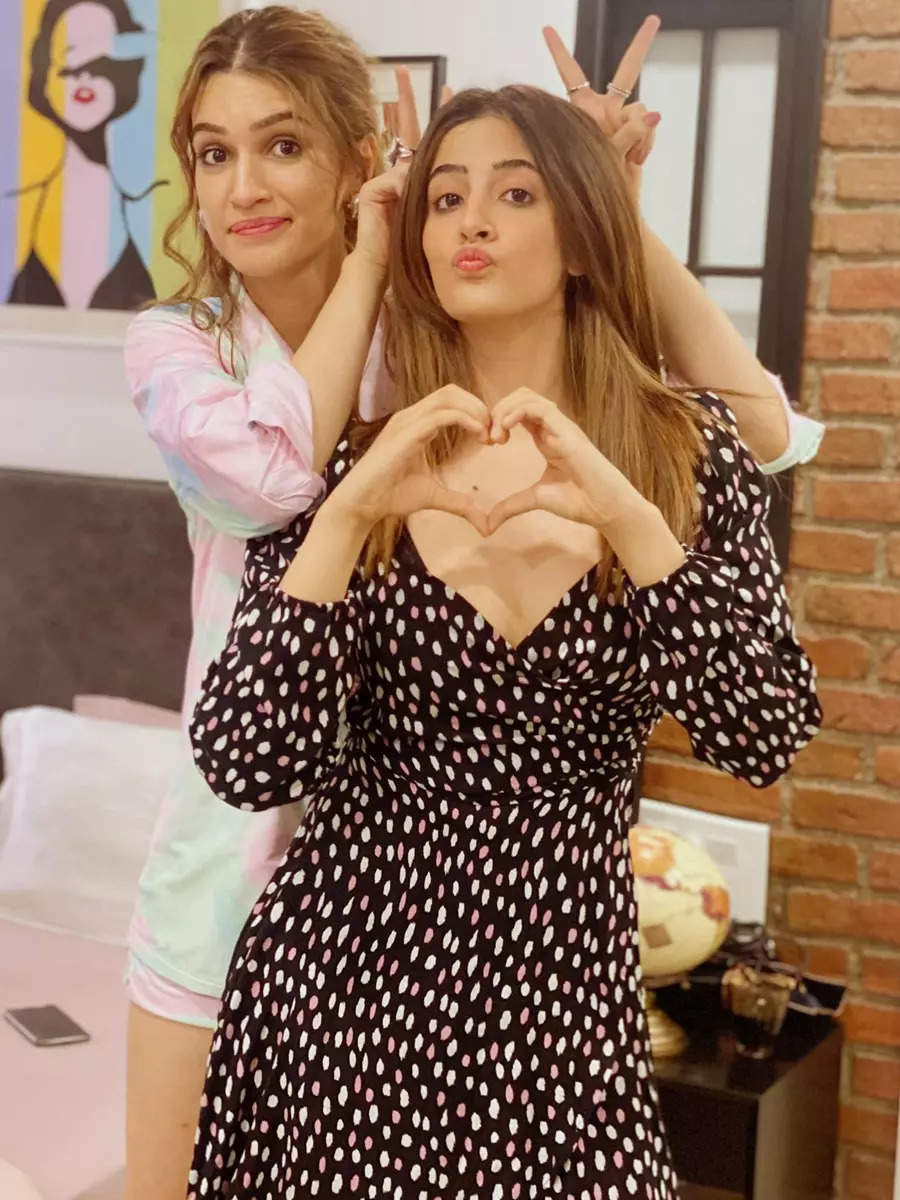 Through the pandemic you had each other for company. What did you do to keep each other's spirits high?


KS: We used to cook and do jhaadu-poocha on alternate days and this actually took us back to our childhood. I remember in Delhi, when on some days our domestic help wouldn't turn up, the two of us would do the dusting and mopping. We also bonded over watching digital content during the lockdown.
NS: These two years have been quite stressful. In such times of uncertainty, it was good to have someone who you can vibe with. We kept each other entertained with long chats over coffee. We even play Ludo at times. We developed a fondness for cooking, especially Kriti, who had begun to bake a lot. She used to bake these really amazing meetha stuff and different kinds of bread.
KS: I also remember these small moments like oiling each other's hair…
NS: Or even our attempt at making the Dalgona coffee, which was trending then.
KS: Our efforts went in vain because humse woh ban hi nahi raha tha (laughs!)
Nupur, you are just starting your career in Bollywood, and at this point, to go through a phase where work suddenly came to a halt, can be very unsettling. Has Kriti been an emotional support for you, given her experience in handling the highs and lows of a film career?
NS: On the work front, it definitely got stressful for me, because when you are starting your career and you don't know which direction it is heading in, it can be tough. I am so glad that Kriti was there at home to calm me down. Whenever I would feel stressed or anxious, I would just go to her room and we would have long chats. She used to calm me down saying that it is affecting not just me, but everyone.
KS: I can understand where she is coming from. When I stepped into showbiz, things were normal. Today, there is no certainty about when the theatres are opening in many cities. I don't expect people to spend that money in COVID times and go to theatres to watch newcomers on the big screen. At this point, people are relying on bigger films to open in theatres to entice the audience back to the cinema halls. Nupur had her low moments, and even I had my share of anxiety. I felt low, too, and I am glad that my sister was at home with me, otherwise it would have been very difficult to go through all those months.
NS: There have been those instances, too, where I have stood by her. You know how insensitive people can get and write about actors, or the times when I know that she has felt bad about losing a project to someone else when she worked really hard for it… during such times, we have stood by each other.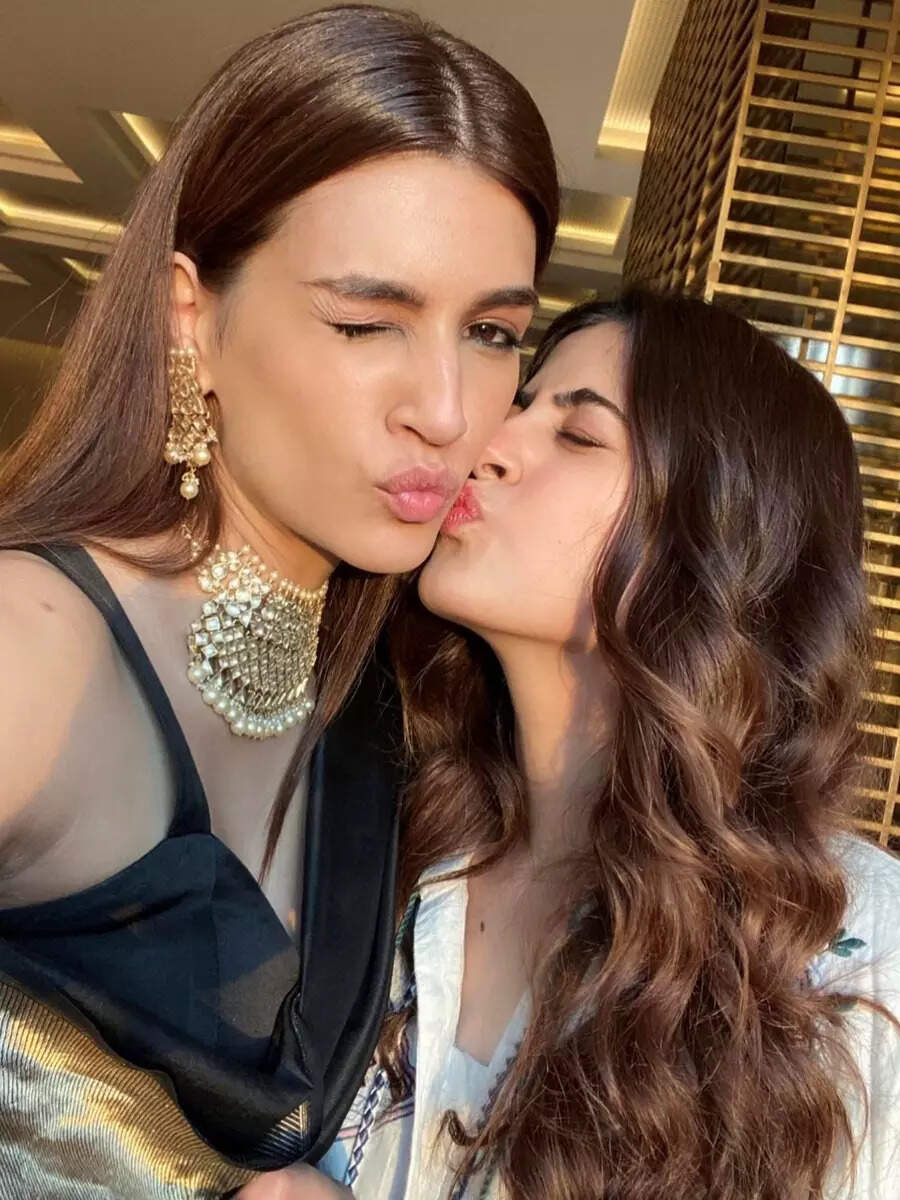 You come from a non-filmy background, and now, you both are part of showbiz. How did your parents feel about it? Were they deeply concerned about how their girls would fight the odds in this unpredictable and extremely competitive profession?


KS: My parents were not against my decision. They were supportive. It's just that sometimes they would get worried thinking it is an insecure profession.
NS: Mom used to get worried, especially when her friends or relatives would feed her stories saying, 'Bollywood mein bahut struggle hai, it is quite a tricky field.' During such times, I would calm her down.
KS: When Nupur moved to Mumbai it felt good, because it meant that I won't be returning to an empty apartment everyday. Initially, when she came, she was only focused on her singing, which is her first love. So, I helped her with a few contacts of people, who she could meet or could seek assistance from. But then things changed one day, after she got a call for an audition.
What is the first piece of advice you gave Nupur before she set foot in the film industry?


KS: I just asked her to go with an open mind. I feel until and unless you do something, you can't figure out if you can or want to do it. When she came back from the audition, she said she enjoyed being in front of the camera. She said, 'I feel like I can emote.' She then wanted to pursue acting and did a lot of workshops. She wanted to be completely ready before she took the plunge. I understand that as a newcomer there are times where you get restless. You want to crack that first film desperately. Having been through the process, I told her that it is rather important to hold on and see when you start and what you start with. I told her that everyone has their own journey and that everything happens when it is supposed to happen. You have to wait for the right opportunity and not do something because you want to do it 'right now'!
Kriti, you made your Bollywood debut as an actress seven years ago (with Heropanti), and Nupur, you stepped into showbiz with your music videos (2019 and 2021). Today, when you see each other on screen how does it feel?

KS: I was pleasantly surprised seeing her emote on screen as I knew that Nupur could only sing. In her second music video, I could see that added confidence in her as an actor. She prepped by attending a lot of acting workshops. I have seen her grow as an artiste. I feel she is a lot more mature as an actor than I was when I started off. I knew nothing about acting. I had done no workshops. So, whatever I learnt was on a film set.
NS: I was blown away seeing Kriti on the big screen as I didn't expect her to be so confident. I remember that when mom and I went to the screening of her first film, we were very nervous. We went to the theatre with blank faces and we were hoping ki sab kuch achcha ho. But we were so happy and surprised with what we saw because mom and I never expected this from Kriti. For us, she was a shy kid. Between Kriti and me, I was the talkative and social person. But this proves that what you do on screen has nothing to do with what you are off screen.
How are you celebrating Raksha Bandhan today, and how has the celebration been at home over the years?

KS: Since childhood, Nupur and I have been tying rakhis to each other, with the idea that Raksha Bandhan is all about protecting your siblings, irrespective of the fact whether you have a brother or not. When either of us is not at home, we connect over a video call or courier a rakhi to each other.
NS: Mostly our father is in charge of getting rakhis for us, but his taste is too blingy and Kriti and I usually prefer simple designs on thin threads.

Source: TOI